Star casting on rosewood stained piano finish base.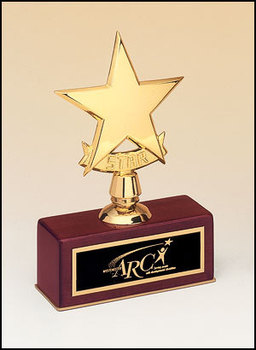 Need to send us an attachment?
If you need to send us a company logo or list of names to be engraved, please email us at and reference the order number on your receipt.
Star metal casting with goldtone finish.
Laser engravable plate(s). Solid brass engraving plate(s). Individually boxed.
Star casting copyright design TMC 2003
Star metal casting with goldtone finish. Laser engravable plate(s). Solid brass engraving plate(s). Individually boxed. Star casting copyright design TMC 2003